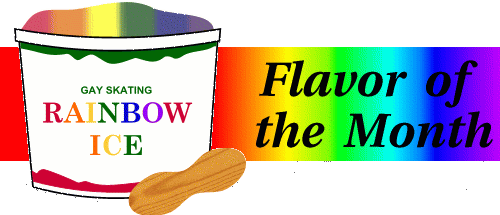 Sports Psychologist Caroline Silby

Caroline Silby, Ph.D., is a sports psychologist and former nationally-ranked competitive skater who is active within the USFSA. When she gave a presentation on mental approaches to coaching at the 2000 annual Professional Skaters Association conference, she was introduced as "probably the best in the industry."
According to Games Girls Play, the book she wrote with Shelley Smith, athletes say that at least 50% of what determines their competitive performances is mental, as opposed to purely physical. The book goes on to cover detailed approaches to mental training, including everything from parent-coach relationships to eating disorders.
Pages 263-268 of Silby's book are devoted to issues of sexual orientation. It is not an in-depth look, but provides a good starting point to help guide the skating world to a more supportive stance toward gay athletes. She recommends, for example, that coaches ask themselves if they permit anti-gay humor, or expect gay athletes to keep their orientations a secret; and that coaches learn about support services for gay athletes. In an interview with Rainbow Ice, she goes into further depth about these issues.

---
Sexual Orientation and USFSA Policy
There has never been a study documenting the effect of homophobia on the competitive mindset of male figure skaters, and the sport of skating in general. But it seems clear that homophobia has damaged skating. As we know from countless first-person accounts, male skaters of all orientations have been targeted for homophobic harassment, and this has indeed affected their mental approaches to competition. Just as the sport has become better educated about eating disorders and sexual harassment in recent years, there needs to be a push toward educating coaches and other pros about how to nurture male skaters without homophobia.
Sexual orientation is conspicuously missing from the protected groups listed in the USFSA's equal opportunity statement. Article II, Section X of the USFSA Bylaws, on page 1 of the 2000-2001 rulebook, states the organization's intention "To provide an equal opportunity to eligible athletes, coaches, trainers, managers, administrators and officials to participate in eligible athlete competition without discrimination on the basis of race, color, religion, age, gender or national origin, and with fair notice and an opportunity for a hearing to any eligible athlete, coach, trainer, manager, administrator or official before declaring such individual ineligible to participate."
Without a doubt, sexual orientation ought to be included in the above statement as a protected category. Any organization as populous as the USFSA is bound to see discrimination of all varieties. Statistically and anecdotally, it seems unlikely that the USFSA has managed to avoid cases of discrimination against participants based on sexual orientation.
There has been some progress. Following a highly publicized charge of sexual abuse against a male coach by a male former student, which brought national attention to the fact that the USFSA lacked a sexual abuse and harassment policy of any sort, the organization adopted a policy in 2000 that acknowledges sexual orientation in its definition of harassment:
"Behavior: Any improper or inappropriate comment, action, or gesture directed toward a person or group that is related to race, ethnicity, national origin, religion, age, gender, sexual orientation, disability, or other personal characteristics."
The full text of the USFSA Policy Statement on Sexual Harassment and Abuse is available in pdf format on the USFSA website, or from the Skateweb articles archive.