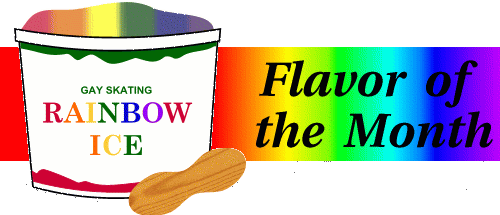 February 2006: On Edge
by Jon Jackson with James Pereira

The judges.
Traditionally, figure skating culture has forbidden judges to speak to the press, to mingle with skaters and coaches, to display emotion or talk amongst themselves while on the panel -- in short, to betray any sign of humanity. This enforced remoteness makes them the perfect projection screen for whatever stories people tell themselves about what it means to be judged.
For example, sometimes female skaters with overly revealing costumes are accused of trying to "seduce the judges." This is, of course, nonsense; for one thing, the judges have seen it all. But it's not easily refuted because skating folks do not feel free to point out what many of them are thinking: "But the judges are gay!"
Well, some of them are, anyway. And, as we have all been finding out in the wake of the 2002 Salt Lake City Olympic pair judging scandal, they are just as human as the rest of us. Members of that much-scrutinized pair skating panel appeared on television explaining their decisions. The infamous Marie Reine le Gougne ("the French judge") said that she'd been pressured into putting the Russian team first, then that she'd "voted her conscience" -- two statements that could very well both be true.
Openly gay former U.S. skating judge Jon Jackson, author of the just-released On Edge: Backroom Dealing, Cocktail Scheming, Triple Axels, and How Top Skaters Get Screwed, was caught up in that scandal from the beginning. As one of the witnesses to Le Gougne's confession, he followed International Skating Union (ISU) procedure and reported it to the event referee, Ron Pfenning of the U.S. Unfortunately, as he describes in his book, the ISU and U.S. Figure Skating (USFS) were more interested in minimizing the damage from the judging scandal than in investigating and addressing the corruption. In response to the coverups and bad politics, Jackson and Pfenning co-founded the short-lived World Skating Federation and battled the ISU in the courts.
On Edge tells those stories and more. Along the way, Jackson gives a first-hand account of what it takes to rise within the ranks of skating's mysterious judges' subculture. It's the first time that gay figure skating judges and officials are identified by name on the public record. American skating fans will recognize major names from the judging ranks such as Joe Inman (a big cheerleader for the New Judging System that has been in place since 2003), Bob Horen (who succeeded Jon Jackson as chairman of the USFSA's influential International Committee), and Pfenning, who outranked them all as a technical committee member in the ISU and an Olympic referee.
Some of the funniest stories involve gay judge and dentist Steve Winkler, a self-appointed imagemaker of sorts who took it upon himself to groom Jackson for judging stardom. The reader eavesdrops on Winkler's opinions on what kind of gay man to avoid if you want to get ahead in skating, what kind of salad dressing to order, exactly how to drink socially, and how to relax under the pressure of judging a high-profile event -- see p. 127: "The Valium helps. Besides, it didn't hurt in getting me promotions."
(Hmm, now we know the answer to the perennial question, "What was that judge thinking? Is he ON something?" And to think that the USFSA scolded national champion Johnny Weir at 2006 U.S. Nationals for cracking a joke that included a drug reference. Maybe it's the judges and not the athletes who should be subjected to doping tests.)
Jackson told Rainbow Ice that for the purposes of the book, he considered people to be openly gay if he knew that they lived a "gay life," speaking comfortably to others about their same-sex partners or identifying as gay in conversation. One wonders how many of these judges and officials would have identified as gay if they were asked by reporters on the record, like the eligible skaters under their power who receive official pressure to stay closeted. The sexual orientation of judges is not just amusing gossip; it's a relevant issue because, as Jackson notes on p. 102, "in the skating world...instances of homophobia by gay men toward other 'suspected' gay men are not unusual at all."
"It's a funny dichotomy, gay men and figure skating," writes Jackson on pp. 152-3. "It's clear in every fan's mind; it's clear in the minds of the skaters; the coaches too. However, homosexuality is not clear in the minds of figure skating officialdom, particularly at the highest levels. They can't admit it to themselves and they refuse to see it."
In his article "Frozen in the closet" for the February 14, 2006 issue of The Advocate, Jackson argues that gay figure skaters have to go through more stages of coming out than most gay people do. He identifies them as:

coming out to self
coming out to friends
coming out to family
being out at the rink, to coaches and other skaters
coming out to judges, officials, federation
being out on the record.
He says in the article, "Gay skaters can't reach stage 6 because stage 5 -- coming out to the judges and federations -- remains a major concern. The skating judges and the officials of the national federations are now and have always been homophobic."
Perhaps not all judges and officials are homophobic, but as Jackson told Rainbow Ice in a February 6, 2006 interview for Outsports.com, every gay skater he's ever talked to has experienced the homophobia.
"I think there's been a history where USFS has been concerned about having a gay element associated with their image," said Jackson. "In my interviews with gay skaters that comes across very loudly, that they don't want to be the skater that hurts figure skating's image and TV contracts. USFS has a responsibility to step up and say that this is not harmful to our image, acknowledge the fact that everybody else knows that there are gay men in figure skating and they love it and they love some of the gay men in figure skating."
Jon Jackson supervised Lorrie Kim of Rainbow Ice when she worked for the WSF in 2003.
Back to Rainbow Ice Menu