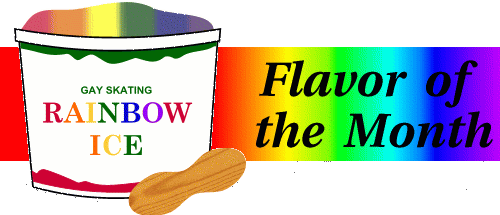 The Adult Skating Movement

Along with synchronized skating, adult events are an area of exciting growth within skating. Every year, U.S. Adult Nationals attracts more and more coaches who haven't competed in a decade or more, or people who have resumed lessons after quitting as children, or newcomers taking up the sport in their adulthood.
Adult events have an entirely different flavor from the élite competitions commonly shown on television. Instead of tense rivalries and the high drama of parental expectations, the adults form a sense of community. It is visible whether they are cheering each other wildly or commiserating over paying for lessons instead of buying a mansion. Most adult skaters do not connect their elements as smoothly as the teens and young adults do; but in exchange, their choreography tends to be more thoughtful and meaningful, and their thrill and dedication are apparent to all.
Gay, bisexual and lesbian skaters are an integral part of the adult scene. Some, such as Laura Moore, Robert Weaver, and Bill Wassmer, are active in organizing adult competitions. Many compete, and have lived in the gay community as adults for so long taht the question of being out or closeted within the sport does not even come up. (For that reason, Rainbow Ice will not list an adult gay skater without a specific statement that the person is out -- but rest assured that there are many more than are listed in the adult gay skater portion of this site. And all of you out there, send an e-mail to be included!)
This month's Seattle-area Slide for Pride is a veteran adult event, part of an annual gay sports festival, but open to skaters of all orientations. It's become one of many warm-up events for Adult Nationals, along with others such as the Wilmington Open or the New York Winter Classic (for which Don Korte has results). Out skaters figure prominently at these events.
Among many notable performances by out skaters at the New York event were a drag magician interpretive program by Laura Moore, and a winning freeskate by Jay Kobayashi showing his élite-level edges, swift stroking, and spins which would have looked good even at senior U.S. Nationals the week before.
For Adult Nationals in Lake Placid, be sure to attend the International Gay Figure Skating Union Open House on Friday, April 14, 2000, 6-10 PM. The Open House will be in the Atrium of the Best Western Golden Arrow at 150 Main Street. Meet your peers, learn more about the Gay Games, hear the latest news from Sydney 2002, see gay skating videos, and buy a new IGFSU t-shirt!
After that, the adult season continues May 19-21, 2000 with the second annual adult Mountain Cup in Villard-de-Lans, France. This event, near Grenoble, drew many adult skaters from around the world last year, and more are expected this year. More information is available from Don Korte's website.
So everybody get involved! You do not have to be a skating genius to take part in the adult movement. In one capacity or another, there is room for all. One of the best things about gay adult involvement is that by training daily alongside the other skaters and coaches, you can serve as role models for how to incorporate figure skating into a healthy, balanced, proud, adult life.
Back to Rainbow Ice Menu