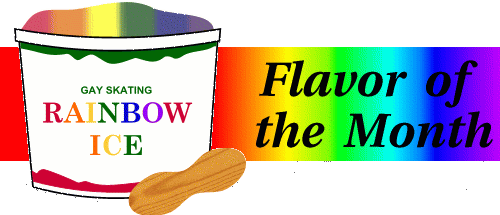 SKATE OUT Saturday, June 29, 2002
The ice skating event prior to the Gay Games, hosted at the spectacular Yerba Buena Ice Skating Center in San Francisco, during Pride Weekend! Fabulous!

It is easy to participate!
Open to open-minded ice skaters, ages 18 and over, embracing the Gay Games' motto of inclusion, participation and personal best. This event will be endorsed by the Ice Skating Institute (ISI). Events include a technical/artistic category, spotlight/interp event, same-sex pairs and same-sex ice dance, as well as team skating exhibitions. PSA and USFSA members welcome, as both organizations recognize ISI events.
Participating at SKATE OUT can get your ISI membership and/or test easily out of the way for the fast-approaching ISI-endorsed Gay Games in Sydney.
An event where freedom thrives!
Skaters can compete, perform an exhibition, or take their ISI test in preparation for the Gay Games at this event.  The Ice Skating Institute (ISI), the sport's international body for recreational skating, will be endorsing this event and the Gay Games. Adult skaters looking to qualify for Gay Games and/or ISI Adult Championships may take one test at this event, which will include required ISI maneuvers and a program set to music for the highest level tested. This test will qualify you for participating in the appropriate level for Gay Games.
Deadline to enter SKATE OUT 2002: June 1, 2002.
Visit 32degreesmagazine.com/skateout.html for registration information and hotel discounts! Come have a great time in San Francisco! Questions? Contact event chair Thom Mullins at goiceskate@aol.com.