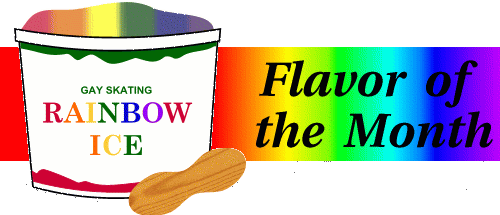 Ma vraie vie à Rouen (My Life on Ice)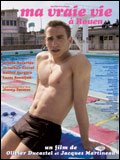 Ma vraie vie à Rouen is currently making the circuit of North American gay film festivals under the title My Life on Ice, but the title translates more accurately as "My true life" or "My real life" in Rouen. Sixteen-year-old Etienne is using his new handheld camera to film a video diary that's his own thoughtful take on the reality genre. He is a competitive figure skater, and he does train for and compete in the French Cup in Rouen during the course of the movie, but skating is simply what he does; it is a movie about a boy who skates, not a skating movie.
Everyone as seen through Etienne's lens is made beautiful: his handsome best friend, his geography teacher, his affectionate grandmother, and most of all, his impishly dark-eyed mother. He turns the camera on himself and he looks like a typical teen -- bumpy skin, gelled hair, earring -- until he films the giant bruise on his hip from training his triple toe loop, and knowledgeable viewers will instantly recognize the painful badge of pride that distinguishes the skater in training.
The sport of skating is not portrayed as either intrinsically gay-friendly or homophobic. There is no sense that of course Etienne must be gay because he skates, no anxieties about masculinity or effeminacy when he practices his choreography, no argument over what message his costumes might send. The character could almost be an athlete in any sport, except for a typically subtle moment when Etienne's mother muses that his pursuits are too solitary and perhaps he should have taken up a team sport. "Je n'aime pas les équipes," he rejoins; he prefers solitary sport, one of the traits mentioned by scholar Brian Pronger (The Arena of Masculinity) as a way that boys who are gay (whether or not they know it yet) can be athletes without enduring the aggressively heterosexual, homophobic culture of the team-sport locker room.
The other skating and gay-skating touches are similarly subtle. The skating-knowledgeable viewer will make the connection instantly that a handheld camera is not just a fun toy, but an eminently useful tool for anyone training programs. When Etienne declares that he wants to fall in love, he qualifies, "It can't go wrong. There's my competition," scheduling his life and ability to concentrate around the skating season. There is a brief scene, shown without comment, of a side-by-side male duo performing axels and flying camel-sit spins. It appears that the competition scenes are of the actor, Jimmy Tavares, actually competing in the French Cup; the effect is much more believable than skating-themed movies or television shows with faked competition scenes.
In fact, subtlety flavors the entire movie. As critic Sam Adams noted, it's "less about coming out than going in" (from the Philadelphia City Paper, July 17, 2003).
The directors, Olivier Ducastel and Jacques Martineau, auditioned nearly 50 skaters for the role of Etienne before choosing Tavares, who has been skating for 10 years. Their treatment of the sport is notably respectful, accurate, and unsensationalistic. They don't use figure skating as cheap code for intrinsic gayness; before Etienne was gay, he was a skater. The film credits thank, among others, the French federation and familiar names from the skating world such as Annick Gailhaguet. It is refreshing to see that a national governing body cooperated with a film about a young gay skater.
Back to Rainbow Ice Menu