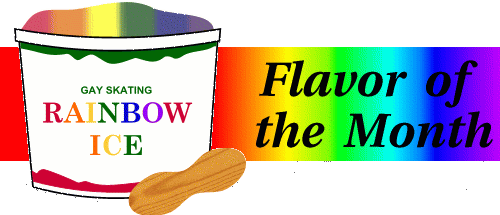 A Skating Serial

by Jennifer Lyon

About the story
Scandal. Mayhem. Intrigue. Love. Families and babies and sordid affairs. International flashbacks scanning decades and wars. There are many wicked pleasures to the world of online skating fandom, and "The Strong and the Sequined" may be the greatest pleasure of all.
Longtime fan Jennifer Lyon began posting this weekly serial soap opera to the Usenet group rec.sport.skating.ice.figure in 1997. It became immediately apparent that her top-level fiction-writing skills, sure feel for the sport, and sly way of tucking deft observations into the details would make the story a runaway hit. In fact, the success of TS&TS, as it is known, has spawned a whole genre of fan-authored writing now known as "skatefic," with a number of websites dedicated to stories and critique.
Lyon is exceptional in her ability to manage an enormous cast of characters, each one entirely distinct from the others, true to life, and three-dimensional. Even the figures of fun, like the hilarious religious nut Melody Seafoam (who "dislikes Italian, Greek, Chinese, Mexican, and Thai food"), are treated with a basic amused tenderness. And all, like reforming philanderer Igor Ilyanovitch, are allowed to change.
Lesbian, gay, and bisexual issues have been central to the TS&TS universe since the very beginning. The male skaters run the gamut from offensive homophobic quadboy Woody Corgan, to discombobulated straight teenager Kevin Drake, to straight culture clash victim Oleg Featherov, to tortured closet case Leroy Donahue, to "don't ask don't tell" establishment skating queen Reece Cunningham.
There are many flavors of female skaters, too. The outrageous, gutsy abuse survivor Larissa Lyubovskaya is outed in a celebrated galimony case. Her fellow skaters, Cassandra and Mia, may be more bisexual than they realize as they are drawn to Larissa's goodness. And who can know the full story of the indomitable Helga von Dame and her gentle companion, Elsa Hummel?
The queer skaters don't live in a vacuum, either. Leroy's well-adjusted activist ex, Barry Yglesias, makes the occasional appearance. And there's a bona fide creep in Dr. Sherrill Avery, a.k.a. "the Boa Constrictor," Sonja Wang's "psycho analyst" (sic), who takes advantage of her swinging bisexual arrangement with her husband to pursue Larissa.
Lyon interweaves well-known details from the real world of skating. Tammy Sue Winchester's family is aghast at the misrepresentation of their town in a televised fluff piece, in Part 20: On TV. The skaters search the Internet, yell "Fall!" at their TVs when opponents skate, feel self-conscious about their thinning hair. Lyon puts recognizable twists on skating institutions: the characters train at Zug Island outside Detroit, or Symesberry, and are sent by the American Skating Organization to 2000 Worlds in -- Brisbane. "The Elviras" are indistinguishable generic ice princesses, prone to stupidity. Blonde, pretty Elsa cries at every competition, like German stylist Uschi Keszler. The hapless Oleg Featherov draws "Play That Funky Music, White Boy" at an improv.
One of the sweetest joys of "The Strong and the Sequined" is the attentiveness to its smallest members. In this universe, no infant goes unloved. And the precocious toddler Britannia comes the closest to being this soap opera's Voice of Truth. She's the best program doctor; she's the one who gets to say, "What happened to his choreography?" when watching a bad-posture quadboy's program. Despite the real traumas that have anguished our heroes, in this sense, they inhabit a charmed universe.
The genius of "The Strong and the Sequined" is that it laughs at the sport, but from the inside, the same way that skaters and coaches do. And of all the ways that the story rings true, this one is the best.

Lesbian, gay, bi, and not-so-straight characters
The characters of TS&TS occupy the full sexuality spectrum, with all the idiosyncratic cultural traits of the skating world. Jason Beadle and his non-skater boyfriend Benjie are a low-key longterm couple. Reece Cunningham is a prime example of a skater who lives in what Larissa Lyubovskaya calls "gay limbo" -- a skater who lives a gay lifestyle, and lets the other skaters know this, but isn't out to the public and assumes that everyone shares his interest in keeping it that way.
Larissa, meanwhile, leads a sometimes lonely life as the one out lesbian in skating. While pro- and anti-gay people alike assume that gay men exist in skating, Larissa's detractors consider her an aberration, or ascribe her lesbianism to her well-known history of abuse. Fortunately for Larissa, most of the people around her respond to her as a person -- especially her best friend, Cassandra, who is in need of a friend so non-judgmental.
Cassandra's extremely young husband, Leroy Donahue, is nearly killing himself with the effects of internalized homophobia. When he is beaten -- by gaybashing thugs, or by his own wife -- he fails to defend himself, consumed with guilt over being gay. And in one of the story's most heartrending chapters, Part 139: Axel, he despairs with pity for his newborn son who is cursed with not only a gay father, but "a gay father who did not love him."
But the wildest of all are the legendary old coach Helga von Dame, known as "Fraulein," and her lovely companion Elsa, a former Austrian champion who is universally adored. Nobody understands their relationship, especially the way that quiet Elsa takes charge in a crisis while it is Fraulein who becomes helpless. Perhaps no one understands because they live in too much fear of Fraulein to be able to think about it. But the reader is privy to occasional hints: "Certain items" get put away for the rare visitor to Elsa's home, and in one revealing chapter, an old nemesis triggers a flashback that introduces us to the butch little 12-year-old Helga and the clinging, adoring 10-year-old Elsa.
If there is a steady center to the uncertain TS&TS universe, it is in the love between these two women, both true skating originals. The omnipotent Fraulein spies regularly on all her skaters, an activity which includes going undercover at the Silver Moon Cafe to ambush young Leroy and shove him firmly into the closet. And every skater knows an Elsa, a soft fluttery ageless beauty who is all-loving, all-forgiving, a great skater in her own right, in whose arms you can always rest no matter how poorly you have skated or how far you have wandered from the path. Such indestructible women anchor the emotions of the real skating world, and they anchor TS&TS as well. The next time you see a powerful skating matriarch coaching a young thing in the Kiss'n'Cry, think of Fraulein and Elsa.

An Interview with Jennifer Lyon
Q: What made you decide to write TS&TS?
A: It started during the off-season, 1997. This is the time of year when there's a lot of fighting on the various skating boards, especially RSSIF [Usenet newsgroup rec.sport.skating.ice.figure]. At that particular time, a lot of people were involved in a heated debate over what were-- and what were not-- appropriate topics for discussion. So I decided to write a soap opera where I could explore these "forbidden topics," using fictional characters rather than real skaters.
Q: How many pages long would TS&TS be right now if it were in book form?
A: Most chapters are around 4-5 pages (single-spaced). There are 187 chapters total. 187 times 4 is 1,248 single-spaced pages.
Q: How long did it take you to plot out the major story lines and characters when you started?
A: I didn't put much thought into the story at all when it started. It was just something I was doing for fun, to entertain my friends on RSSIF. I wasn't even sure how long it was going to last.
The early main characters were based on stereotypes of how skaters are often perceived-- the girl from the wrong side of the tracks (Tammy Sue), the despotic coach (Fraulein), the prima donna (Cassandra), the unhappily married Russians (Igor & Dmitra), the closeted gay guy (Leroy). After a couple of episodes, I added the skating mother from hell (Jane) and her oppressed daughter (Sonja). This was when I started to plot out the storylines more carefully. Before that, I was mostly playing around with the characters and seeing how they interacted with each other. Once the Wangs entered the picture, I had a clearer idea of what was going to happen. By this time, I was also getting feedback from people who were reading the story. This made me want to put more effort into the story. Plus, I was getting to the point where I "knew" the characters and I cared more about what happened to them. I wanted to make them more 3-dimensional.
Q: Did you have a conscious plan about how lesbian, gay, bi, or queer characters would fit into the overall scheme?
A: I knew right away that there would be at least one gay character, since this is a prevalent stereotype in the skating world, and homosexuality is probably #1 on that list of topics that you're not supposed to discuss on RSSIF or any other skating board. So this is how Leroy was "born." It was also intentional that the two people keeping him in the closet were two secretive spinster ladies who've "been together" their whole lives.
Larissa came along later, after I'd been writing TS&TS for 4 months. She was in a few episodes before she was outed, but I always knew she was queer. Basically, my initial plan for Larissa was to provide a contrast to Leroy-- he was a young, up-and-coming amateur skater, whereas she was a rich, famous pro in her late 20s. I wanted her to show him that being outed wasn't the end of the world. She was never meant to be a main character, but I received such a positive response from the readers that I gave her more and more storylines of her own.
Q: I always assumed that Fraulein and Elsa were your old-school butch-femme lifelong mates. I was surprised to learn that some readers are not sure of this. As the author, what is your intention in portraying their relationship? For example, do you want people to wonder? Do you know for sure they are lovers, but leave it mysterious? Do you know for sure they are not lovers?
A: I guess you can say that their relationship is deliberately ambiguous and that, for now at least, they are whatever the reader perceives them to be.
Q: What are you saying by naming one character Oleg Featherov?
A: It's basically a satirization of those wonderfully flashy, gaudy, ostentatious outfits worn by certain Russian skaters. My story for Oleg (which has never made its way into a TS&TS chapter) is that his last name is probably really Federov or Feodorov, but somewhere along the line some American looked as his costume and mistakenly printed his name as "Featherov," and it's been that way ever since.
Q: What about Mauve -- her name always reminds me of Jewel -- can you tell us how you named that character?
A: I thought a color or nature name would work for a folksinger. Lavender would have sounded too obvious, so I picked Mauve. It's not her real name, though. I imagine her birth certificate probably says Lisa or Tracy or Karen or some other common Generation X baby name. And yes, it is kind of a take-off on Jewel.
Q: Some of your chapters deal with very inside-the-sport issues, such as backstage conversations. How do you authenticate such things?
A: I'm nowhere close to being a skating world "insider," but over the years I have absorbed a lot of knowledge from skater bios, coffee table books, magazine articles, Christine Brennan, the Internet, and from watching up-close-and-personals on TV. The skating world is much more accessible to the average fan than, say, Hollywood or the NBA or the music business. If, for example, I visited a fan board for one of my favorite rock bands, I'd be lucky to find one or two people who have been backstage, much less anyone who is close to the band. But on skating-related sites, it's fairly easy for me to find people who are directly connected to the elite skating world and who are willing to take the time to explain things to me. And if all else fails, I use my "artistic license" to make up something that sounds feasible. I'm sure that not every detail in TS&TS is 100 percent in sync with the real skating world, but I try not to make obvious bloopers, such as having Olympic competitors skating in spotlights to music with words.
Q: Have you ever had to change a storyline because it too closely echoed something happening in the real skating world? Can you talk about that?
A: Once a chapter is released, I can't really change it. It's out there, and people have read it. But there have been a couple of times when real-life skaters ended up in situations that were similar to something I had already written about. For example, Brian Orser was outed by an ex-boyfriend via a palimony suit. This is very close to what happened to Larissa in TS&TS. But I wrote and released those chapters a full year before the Orser lawsuit became public knowledge. If I had known that something like this was going to happen in a real skater's life, I would have outed Larissa in some other way. I would never deliberately embarrass Brian Orser or any other real-life skater by using their personal problems as fodder for my stories.
During the time when Craig Maurizi publicly accused Richard Callaghan of sexual abuse, I avoided the topic in TS&TS. I didn't change any part of the storyline-- that would have been impossible. The fact that Larissa is a survivor of childhood sexual abuse is an integral part of her character. But while the allegations regarding Callaghan were being discussed and debated publicly, I focused TS&TS on other plotlines and characters. I felt it would have been in bad taste to highlight something about Larissa's past during a time when everyone was talking about a real-life case of alleged sexual abuse. And on an emotional level, hearing about this affected me in such a way that I couldn't write about it.
Q: Do you skate?
A: Occasionally, I attend public skating sessions at one of the local rinks. I can get around the ice without hanging onto the boards, and I can even skate backwards a little. But that's about as good as I'm going to get. I have two left feet.
Q: How did you become interested in the sport?
A: It goes all the way back to Sonja Henie. My mom saw one of her movies when she was a little kid and she got hooked. My grandmother was a skating fan, too. They went to see Sonja Henie's ice show a couple of times in the early 1950s. (Grams saved the programs *and* the ticket stubs.) So I was exposed to the sport practically from birth. My parents even have home movies of me at age 2 "skating" with my mom across our backyard rink.
When I was in grade school, I spent a lot of time hanging around the local rink while my mom and my sister took lessons. (Mom tried to get me to take skating lessons, too, but I was too clumsy and I wasn't big on taking lessons of any kind when I was a kid.) Mom got to know the head coach pretty well, and she helped out with the annual ice show a couple of times. I remember the head coach was a former competitive skater. Her daughter was the most talented kid at the rink, but her mom wouldn't let her compete. So I did hear a few stories about the skating world, even back then.
There wasn't much skating on TV at that time, but I watched the Olympics every year from 1976 on up. I can also remember seeing Peggy Fleming and Dorothy Hamill in pro events. (Probably Landover, but I can't say for sure.) I paid attention to costumes, hairdos, and music, rather than the technical elements. I also liked seeing people from different countries. But I didn't start following the sport closely until the 1988 Olympics-- the Battle of the Brians, the dueling Carmens, and G&G were what got me hooked. (I didn't "get" ice dancing until later.) The TV coverage improved a lot after 1988, which made it easier for me to keep track of what was going on with the various skaters and competitions. Once I got Internet access in 1993, it was even easier for me to follow the sport. Reinstatement was the hot topic then, and I'd find out which skaters were "going back in" and which ones were "staying pro," and I'd pass this info on to the rest of the family. I would also print out articles about everyone's favorite skaters. Grams in particular always wanted to know what was going on with Tonya Harding.
We lost Grams in March of 1997. She went to bed one night and never woke up. I think writing TS&TS was one of the things that helped me deal with losing her. At least it gave me something to do with my brain.

Back to Rainbow Ice Menu