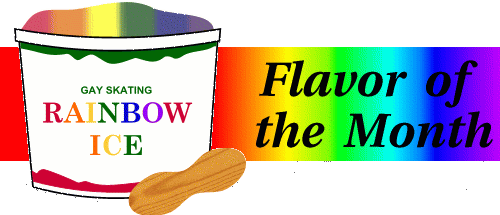 It's finally here: the Olympics of the gay sporting world, the long-awaited quadrennial Gay Games! For the third time, the Games will include skating among the featured events, and judging by the sold-out tickets for the "Cool as Ice" exhibition, skating will once again be the marquee sport.
This time around, organizers have clearly learned from mistakes of the past. Unlike the fiasco in Amsterdam in 1998, when organizers tried to hide their failure to request an ISU sanction and, when exposed, had to cancel the competition so skaters wouldn't lose eligibility, the Sydney organizers are providing clear guidelines about eligibility for competitors.
Also unlike the Amsterdam organizers, they are remaining true to the Gay Games vision by welcoming all competitors, rather than instituting requirements (such as ability to perform a double axel!) that are unrealistic for most adult skaters. The Gay Games figure skating FAQ wryly addresses this point by saying, "We realise that gay skaters have an inordinate need to express themselves so we are only offering the Artistic and Spotlight events for Freestyle (singles) which have no required elements." The Gay Games are sanctioned by the ISI, and competitors will be slotted according to age groups and their ISI test level.
Gay Games skaters in 1994 and 1998 had much to prove: that same-sex pairs and dance could and should be done, that adult skaters are worthy athletes and competitors, that competition is nobler than exhibition alone. There is an odd new context for the 2002 Games. With the burgeoning strength of the adult skating movement, which owes so much to the out gay skaters in its ranks, plus the disgraced mainstream skating establishment that is struggling to remain credible and relevant after the 2002 Salt Lake City Winter Olympics judging scandals, the competition in Sydney could well be the site of the purest expression of the skating ideal this season.
The Gay Games athletes are true amateurs, training and skating for love. You know what they say, friends: just go out there and have fun. ;-)
Back to Rainbow Ice Menu