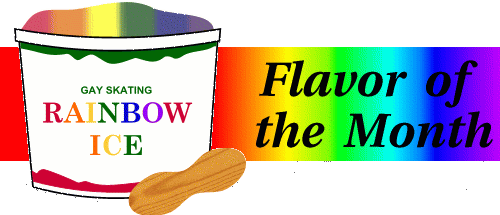 Results of Last Month's Unscientific Poll: Who Are the Hottest Skaters?

In last month's Flavor of the Month poll, we asked respondents to list the skaters they found "hot," to see if there are differences in tastes among fans of different genders and orientations. In this extremely unscientific poll, it's not easy to know what constitutes a significant difference, although some data are easier to interpret than others: for example, 23% of the straight female respondents listed Katia Gordeeva, as opposed to 0% of the bi and lesbian women, and 0% of the straight men.
Being out as gay, in the cases of Rudy Galindo, the late John Curry, or Brian Orser, did not seem to repel female admirers, nor attract male ones. In all cases, they scored higher with the female respondents. Similarly, skaters known to be heterosexual, such as John Zimmerman or Katarina Witt, were freely appreciated by gay and bi respondents as well as straight ones.
Take your bows, winners! Katarina Witt is the favorite among lesbian and bi women; John Zimmerman, among gay and bi men. And honorable mention to the observant respondent who listed stunning Canadian ice dancer Martin Smith, Rainbow Ice's vote for hottest/most overlooked skater among those listed. Thanks to all for the fun!
Special thanks to Jennifer Lyon, author of "The Strong and the Sequined," for this Flavor of the Month idea.