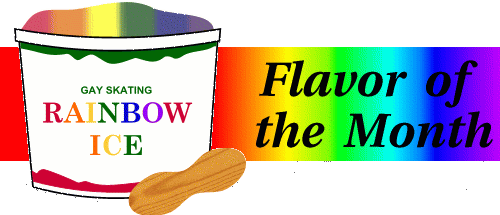 January 2006: Randy Gardner

On the eve of the 2006 Winter Olympics, Randy Gardner is passing two more milestones in his rich and varied career: his choreography will be featured in the upcoming U.S. network television show Skating with Celebrities, and he is publicly out as a gay man as the cover subject of the February 2006 issue of Scene magazine.
In the cover story, "Center Ice: Randy Gardner's Creative Vision Flies on Skating with Celebrities" by Lois Elfman, Gardner cites an eight-year relationship with corporate entertainment lawyer Jay Gendron. The couple is planning to buy a home together.
It is often difficult to know whether gay skaters are choosing to remain closeted or whether it is simply that no one has thought to ask their orientation on the public record. In Gardner's case, he clearly had an opportunity to discuss his love life in 2002's Forever Two as One, the autobiography that he and pair partner Tai Babilonia co-wrote with Martha Lowder Kimball, but he avoided any mention of the subject in the book. So his appearance on Scene's cover is a coming out by active choice, not by default, something confirmed by Scene's Letter from the Publisher.
Gardner's current busy schedule as a choreographer, coach, and technical specialist with the ISU Code of Points judging system -- including at this month's U.S. National Championships -- means that his decision to come out puts him in a position to provide valuable evidence to young skaters that being out and gay is compatible with being active on today's skating scene.