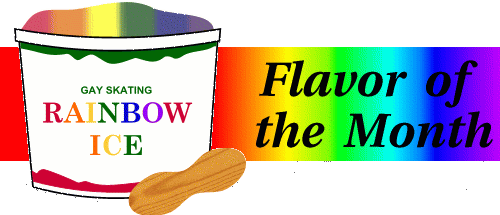 Randy Gardner
1979 World pair skating champion with Tai Babilonia
1976-1980 U.S. pair skating champion with Tai Babilonia
1987 First recipient of the Olympic Spirit Award with Tai Babilonia

Few skating partnerships last as long as Randy Gardner's with pair skating partner Tai Babilonia. By January 2006, when Gardner came out in the cover story of the gay lifestyle magazine Scene, he and Babilonia had been skating together for almost 39 years, and neither had ever had another skating partner.
The casual skating fan may remember Gardner best for the heartbreaking warm-up at the 1980 Lake Placid Winter Olympic Games when a groin injury forced Babilonia and Gardner to withdraw from the pair skating competition and a much-anticipated match-up with Soviet champions Irina Rodnina and Alexander Zaitsev. Fans of the duo's well-matched mirror skating, pair spirals, and frictionless partnering will be gratified to know that Babilonia and Gardner found emotional closure in February 2005 when they skated on that ice at a 25th anniversary gala celebration for the Lake Placid Olympics.
Over the decades, Gardner has contributed to figure skating in countless ways, including as a single men's and pair champion, a choreographer for ice shows such as the Tom Collins Champions on Ice tour, a coach (in 2006, for senior U.S. pair Janice Mayne and Ethan Burgess), an author (Forever Two as One with Tai Babilonia and Martha Lowder Kimball), and a technical specialist for the ISU's Code of Points judging system. He served as one of Rudy Galindo's mentors and choreographers when Galindo made the sudden transition into stardom and pro skating in 1996. As one of the choreographers for the Fox television show Skating with Celebrities, he continues to be one of the most influential people on the figure skating landscape.
Back to Rainbow Ice Menu