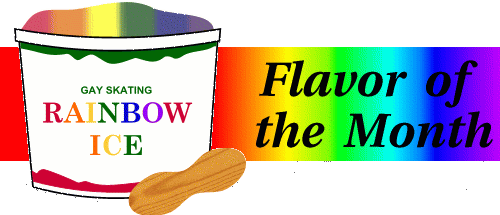 Belgian adult men's and pair skater Kurt van Tricht

With the height of the adult skating season upon us, all eyes turn to the premier events of the year: U.S. Adult Nationals, in Marlborough, Massachusetts (April 25-29, 2001), and the Mountain Cup in Villard-de-Lans, France (June 1-3, 2001). These events are great opportunities for lesbian, gay, bi, and trans figure skaters to meet and organize. If you're attending U.S. Adult Nationals, don't miss the International Gay Figure Skating Union's Open House and Gay Games VI Registration Launch, Friday, April 27, 5-10 PM at the IGFSU Suite at the Sheraton Tara. At this party, you can register online for the 2002 Gay Games in Sydney, meet fellow skaters, see videos from gay skating events, and find out how to get involved.
One notable personage who frequently attends adult competitions is Belgian men's and pair skater Kurt van Tricht, occasionally known as "the notorious" for his unabashed, thoroughly charming personality. He is fearless, whether forging ahead with better English than many native speakers can aspire to, hamming it up, or braving telltale cuts on his palms from his trademark Biellmann spin. As Belgium's only out skater, and half of Belgium's only adult pair with Heidi Leys, his outspoken nature and love of travel serve him well.