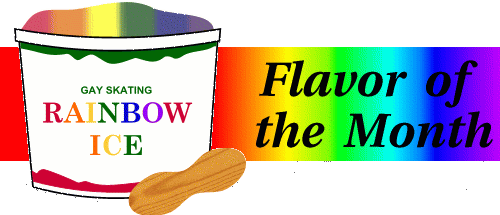 by Lorrie Kim
Originally posted to Usenet discussion group rec.sport.skating.ice.figure

Reports from the 2000 Orlando, Florida Conference
Reports from the 2001 Las Vegas, Nevada Conference

What do reports from the annual coaches' conference have to do with gay issues in skating?
Nothing, really, except for one or two spots where gay issues are mentioned.
And that's the point. Gay issues are a very small part of what the coaches gather to discuss. Of course, that is partly because of homophobia and its genteel cousin, not-knowing-how-to-talk-about-it. But it is also partly because the day-to-day work of coaching and skating involves a lot of exhaustive detail that is too mundane, and arcane, to be political. And this is something that must be taken into account by anyone who is interested in taking a cultural-political view of the sport from a gay perspective. Gay-inflected critique of the sport's homophobic aspects, like any other kind of critique, holds no authority unless it is informed by knowledge of the sport.
The grossest example of uninformed charges of homophobia came during the 1998 Amsterdam Gay Games. In what appears to have been a purely cynical diversionary move, organizers encouraged the public to believe that the figure skating event was downgraded to an exhibition, rather than a competition, because the ISU withheld sanction out of homophobia. In truth, the downgrade was due to the organizers' own inexplicable failure to submit a sanction request to the ISU. But the public bought the story willingly and embraced it, to the point that attendees protested the ISU's homophobia and the mayor of Amsterdam denounced the ISU. Few seemed interested that, homophobia or no homophobia, the 1994 New York Gay Games organizers had filed their paperwork on time and quietly received their ISU sanction to hold the skating event as a competition.
It is one of figure skating's charms and drawbacks that the public feels qualified to pass judgment on it, and pronounce the actual judges and rulemakers wrong, without knowing what they are talking about. In fact, some of the very not gay aspects of the sport are directed by policy, and some are not.
The ISU explicitly forbids high-level same-sex pairs and dance -- by omission, anyway, stating that the teams must consist of "a man and a lady." The ISU also effectively bans drag, by mandating that women must wear skirts for competition, and men must wear trousers. Although there is no rule that men must eschew makeup or wigs, the rule forbidding overly theatrical costumes is quite likely to be invoked if a male skater should ever compete in intentionally feminine makeup.
The ISU rule requiring skirts for women is so backward as to be almost quaint. In the early 1970s, when students at all-women Bryn Mawr College were required to wear skirts to dinner, there were boxes of skirts at the entrances to the dining hall. Students would simply pick up a skirt and don it over their jeans before eating. Similarly, the ISU rule does not forbid pants -- it only mandates skirts, making the ISU probably the last bastion in western civilization to believe that pants un-sex women.
But there are other things that are not forbidden. For example, there is no rule preventing skaters from coming out in the press, or giving television interviews discussing their same-sex lovers, or wearing a rainbow flag logo on their costumes while they compete. Why doesn't a skater, for example, do a program about gay rights? Part of the answer can be found by understanding the sport as a whole. Sports science confirms that the best way for an athlete to perform well is to conquer distractions, to be in the moment and hopefully the zone, and not to lose focus by thinking about other topics. Certainly, especially in the U.S., skaters are wont to avoid performing programs that send political messages, at least in part because they don't want to lose their focus. Not to say that message programs are impossible -- French and German skaters, in particular, have been known to explore them -- just not common.
Another roadblock to an eligible competitor performing a message program is that, unless they are Dmitri Dmitrienko and composing the music and doing the choreography completely alone, the skater is subject to the preferences of the coach and choreographer, not to mention parents and whoever else influences their athletic choices. By the time most skaters' programs make it onto TV, the reputations and egos of not only the skater but several other professionals are riding on the program. This consideration is not to make excuses for the numbing parade of compulsory heterosexuality that can be men's skating -- just to explain that a more detailed understanding of the way the sport works can put things into context.
That said, here are reports from the two most recent Professional Skaters Association conferences, written by Lorrie Kim. The closest that anything came to a gay issues discussion was Technique vs. Artistry, in which gay coach Jeff Nolt was a panelist. While Caroline Silby did not specifically address gay issues in her presentation, she did answer gay-related questions in her interview with Rainbow Ice when she was the February 2001 Flavor of the Month. Otherwise, these reports describe some of the exhaustive, and sometimes exhausting, concerns that all skaters and coaches share, regardless of sexual orientation.