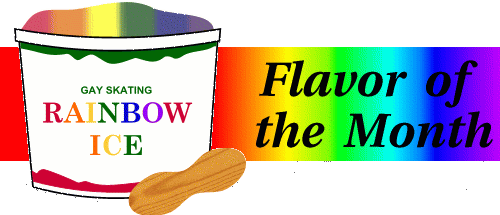 August 1998:
The Amsterdam Gay Games

---
Review and list of participants!
Shanti Day has provided a review of 1998 Gay Games skating practices and an almost-complete list of participants.
---
Update: August 16, 1998
It appears that I was hasty in thinking that the Gay Games skating organizers took responsibility. According to skater Laura Moore, during the "practices" it was announced that the athletes were skating in protest of the ISU. Moore and many others had no intention of protesting the ISU; it was a propagandistic lie. Such announcements served only to further inflame popular sentiment scapegoating the ISU. This sentiment was apparently in evidence on posters and t-shirts from audience members, bearing obscene anti-ISU slogans. I find it reprehensible that the organizers, far from setting the record right, actively encouraged this scapegoating.
Furthermore, Moore stated that she wrote a press release saying the conflict was not the ISU's fault, and brought it to the media center at the Friendship Village for distribution, where she was told they would photocopy and distribute -- once they read it. After they read it, she was turned away and the press release was not distributed. This further supports the conclusion that the ISU was sacrificed in a bungling attempt by the Amsterdam organizers to garner good P.R. at the expense of the truth.
The Amsterdam organizers betrayed a thorough ignorance of the sport of figure skating, starting with their contradictory desires to force the skaters into ISU rules and to include same-sex pairs. This ignorance caused them to see homophobia in the ISU's refusal to grant a last-minute sanction, when anybody familiar with the ISU recognizes that the refusal was standard procedure, not discriminatory. The consequences included the loss of four years' hopes, training costs and effort on the part of the skaters; financial loss for the Gay Games; a torrent of bad publicity; ill will from the ISU and other official skating bodies; and most of all, the complete loss of credibility in the eyes of anybody who follows the sport. In the future, the organizing of Gay Games skating events must not be allowed to fall into such ignorant hands.
The 1998 Amsterdam Gay Games took place August 1-8, 1998, with an estimated 14,000+ participants. This makes it the largest single sporting event in history, larger than any Olympic Games. Figure skating, especially the instantly recognizable political import of same-sex pairs and dance, has been a signature sport since it first appeared as a Gay Games competitive category in 1994 in New York.
Gay Games skating links
Gay Games links

Back to Menu