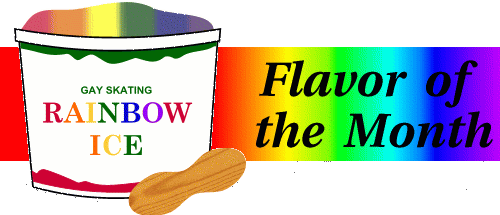 Thin Ice
U.K. 1995

"Thin Ice," a feature film from England, has some of everything a woman interested in queer figure skating could want! In Charlotte Avery and Sabra Williams, it's got two adorable lead actresses who, in real life, honestly did win a gold medal in same-sex pairs at the 1994 Gay Games (just like their characters in the movie). It's got brief clips of real skaters from a real practice at those Games (such as the celebrated Jean Pierre Martin and Mark Hird), and some lines from Linda Carney and Laura Moore, another lesbian pair. It has a lesbian love story; it has adult skaters; it has a wedding-dress routine featuring a synchronized team (ahhh, such a fantasy); Sir Ian McKellen really shows up. It's a real movie!
One of the best things about the movie is the way it portrays adult competitive skating as a worthwhile endeavor, worth sacrificing and traveling for, completely separate from the Olympic-level skating that is more familiar to the general public.
So often, skating can look like a sport only for the very young. No, if you're 25 you can't start skating now and be the next Rudy Galindo. But you could aim to do what Avery and Williams achieved. Go for it!
You can order this film ($42.99 plus shipping within the U.S.) through www.reel.com.