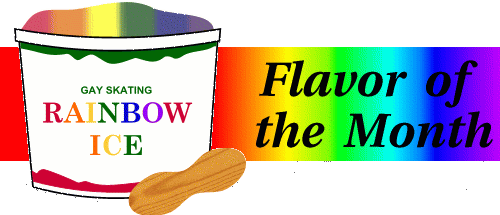 Greg Wittrock's "Freezer Burn"
at Sky Rink, Chelsea Piers, Manhattan -- October 7 and 8, 1999

Yes, it's Greg Wittrock, back with an expanded version of his show and brainchild, "Freezer Burn"! Once a one-man show, this time around Wittrock is joined by skaters Steven Lu, Lisa Clinton, Britt Nhi Sarah, Heather Harrington, Scott Schwartz, and Jessica Randall.
Wittrock is the man who scandalized the "family-oriented" audience at the 1998 American Open with a masked drag program called "Whorita." Chagrined organizer Scott Williams had the announcer apologize to the stunned crowd. Heh. Whoops. "Whorita" makes her grand appearance in "Freezer Burn," along with fellow masked archetypes such as Cleana Spotless, Alex Inadequate, Demandra Now, Dougie Druggie and Penelope Pout -- channeled by Wittrock, of course.
Previous performances of "Freezer Burn" have gotten splendid reviews, such as this one from Time Out New York, October 9, 1997: "When a press release says that what it's selling defies categorization, it's probably best to back away slowly without making any sudden movements. But Greg Wittrock lives up to the advance word for his performance-art-on-ice piece."
And from HX, February 7, 1997:

It doesn't get much gayer than this: a late-night, one-man performance piece -- incorporating papier-mâché masks, outrageous costumes and drag -- on ice! Greg Wittrock is the diva on blades.
Freezer Burn
Thursday, October 7 and Friday, October 8, 1999
10:30 PM
Chelsea Piers Sky Rink
23rd Street at the Westside Highway, Pier 61
Tickets $15, available at the door
Contact: Janet Larson, Press Agent (212) 877-3121
Click on an image to enlarge it.
Back to Rainbow Ice Menu