Greg Wittrock, Team New York
gwittrock@earthlink.net

Greg Wittrock started skating at age 12 in Virginia, but his skating was interrupted when the local rink shut down. He resumed skating in time to compete at the 1994 Gay Games. After a career in graphic design for book and album covers, he returned to the sport full-time in 1997. He coaches at Sky Rink in Manhattan, and teaches a creative movement class on ice at Wollman Rink, about which he was interviewed on CNN.
Wittrock estimates that he incorporates his own masks into 75% of his skating programs, including "Whorita," a drag performance piece he skated at Skates of Pride in 1997 and at the American Open in 1998. Wittrock's tender description of his "Whorita" character:
"She's a big flirt. She gets around. She loves to love. She's a real sweetheart. She loves her body; she loves everybody else's body. Some people hate her. She just loves them right back. She's indifferent to their hate."
In 1999, Wittrock was selected as a dance and movement instructor for the Cirque du Soleil. He has also co-produced and directed five cast members in Underground Ice, an avant-garde ice performance at Sky Rink.
His current project is an ice theatre presentation called Freezer Burn, essentially a one-man show backed up by six skaters who form a chorus. In "Freezer Burn," Wittrock portrays a number of different characters, many of them masked, to take the audience on a journey through his mind, heart and soul. He says, "Skating without a mask is totally different. When the mask comes off -- that's the soul."
Appearances: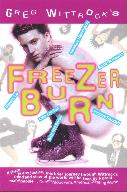 Back to Rainbow Ice Menu