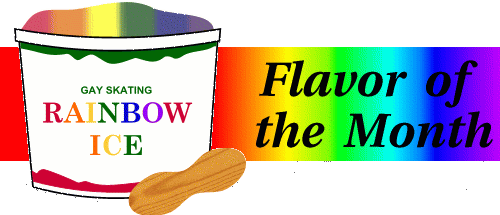 Greg Wittrock's fantastical masked theatre on ice
At Manhattan's Sky Rink, Thursdays June 21 and June 28
Fridays July 6, 13, 20, 27
All shows at 10 PM

What is gay skating? Is it anything done by a gay skater? Is it skating with a same-sex theme? Is it femme skating by men?
Perhaps gay skating is this: skating which presents everything the mind can imagine, unafraid to explore beauty and psyche, unbound by conventions of either gender or skating tradition.
Already an innovator with previous editions of his fantastical masked theatre on ice, FREEZER BURN, Greg Wittrock is back with an extended version running for six weeks at New York's Sky Rink in June and July. The cast of Wittrock, Emily Carino, Steven Lu, Bridie Myles, Alyssa Stith and Jessica Randall will also participate in the June 24, 2001 New York Gay Pride Parade on a float covered with plastic ice -- don't miss it!
Freezer Burn has been a Flavor of the Month before: in October 1999, and January 2000. In addition, Ryan Lee Stevens has editorialized on the American Open controversy around Wittrock's "Whorita" program at his Gay Skate website.
Check out the new Freezer Burn website for schedules, ticket information, and more!

So go on over and take a lick...er, look.
---
Viola X wittrockiana
=
Rainbow Ice: What is your feeling about the word "pansy"? Do you feel it is a positive word that you identify with? Because I noticed that the scientific name for pansies is "viola x wittrockiana," which I guess you must have known for a long time.
Greg Wittrock: The Queerleader loves this word! It makes her out to be a flower! It links her to nature. She feels she has roots to the planet. Is part of the biology of the world. She belongs just as the pansy does. It's positively enjoyable.